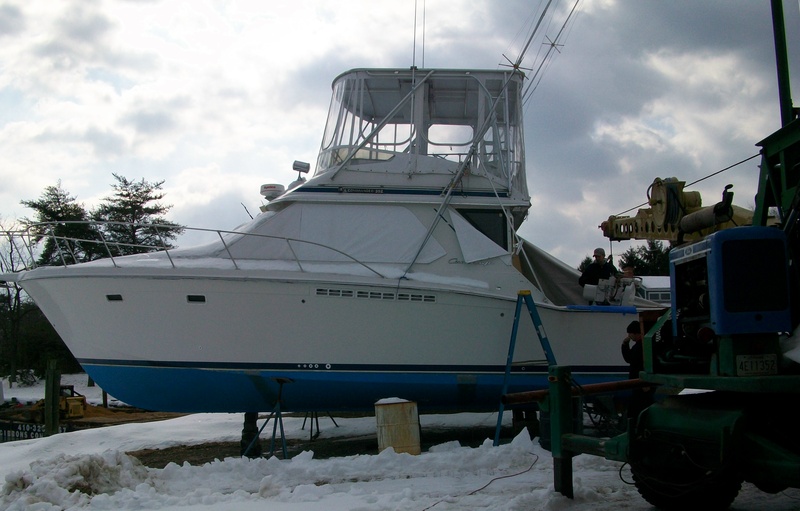 WINTERIZATION
By: Katie Finnecy
It is that time of year again, the days are shorter and the cold of winter is setting in. Now is the time to think about winterizing your boat. We all know why winterizing is important: water expands as it freezes, leading to the risk of bursting pipes, hoses, and any component that holds water, both fresh water and sea water.
There are many systems that your boat may have that contain water depending on the size of your boat. These include engines and generators, potable water systems, washdowns, heads, holding tanks, mascerators, overboard discharges, air conditioners, water makers; I could go on and on. It is not enough to just drain the water from each system as there are many low lying components and runs of pipes will not drain on their own. There are also important things to consider when winterizing each system, whether you do it yourself or hire a mechanic to lay up the boat.
Engines and Generators
• Treat the generator the same as a propulsion engine at winterization. The generator engine requires everything that the propulsion engine does, though it is often overlooked and neglected.
• Always change the oil when laying up an engine or generator. Contaminants in used engine oil combine with moisture from condensation to form acids that attack internal engine parts.
• Always check the concentration of engine coolant to determine at what temperature the coolant will freeze. If the freeze point is not low enough, engine components could freeze and crack, such as heat exchangers, cylinder heads, and even cylinder blocks.
• Use enough winterizing antifreeze to displace all of the water in the engine. The amount of antifreeze you need to use depends on the size of the engine and the design of the exhaust system, for example the type and size of muffler and length of hose runs. There is no general number of gallons needed.
Fuel Systems
• Always fill fuel tanks. A full tank will minimize the amount of condensation, which translates to less water in the fuel.
• Use a good fuel stabilizer at every fill up to protect the fuel when being stored for any length of time. It should resist microbial growth, improve lubrication (diesel engines,) and boost either octane or cetane depending on the fuel you burn.
Potable Water Systems
• Identify all the features of your potable water system. Some systems are very simple with few parts; others are very complicated with a lot of components. Typical water systems could contain water tanks, sinks, showers, shower sumps, heads, potable water wash-downs, water heaters, ice makers, windshield washers, and water makers.
• Drain the water heater. Some have drain valves, others do not. If there is no drain, remove the inlet water line and check valve to drain.
• Bypass the water heater. It will dramatically reduce the amount of winterizing antifreeze needed to fill the system.
• Some marine heads use potable water to flush. Others use sea water. Those that use potable water depend on the system pressure to fill the bowl. Heads that use sea water have their own pumps.
Sanitation Systems
• Once the water side of the marine head is winterized, address the rest of the sanitation system. Other items to consider are holding tanks, y-valves, overboard discharges, and macerators. Any of these can hold water and risk bursting.
• Always, always, always empty holding tanks prior to your winterization. Remember to do it before winterizing the engines as you mayhave to take your boat to an authorized pump out station.
Air Conditioners
• Air conditioners use sea water in the condensors. They have their own pumps and water lines that have to be winterized.
• Several units may be fed from one water pump. Take care to ensure that winterizing antifreeze makes it to each of the air conditioners.
• It is also a good time to inspect the condensate drains at both the condensors and the evapoators. If there is more than a little standing water address the drainage issues.
Other Considerations
• If the boat is to stay in the water all winter do not close scupper drains. These are needed to drain rain and snow water from the boat. Make sure they are functioning and clear any clogs.
• Turn off all battery switches to prevent battery discharging over the winter.
• If the boat is being stored on land, open all thru-hulls/sea cocks apon completing winterization to drain any water held in the valve.